The wooden venetian blinds have become very popular in the last years, even if they are a bit more expensive than the other venetian blinds, like the metal or plastic ones. They are the more sophisticated alternative to the plastic or metal blinds and this is why you cannot find them in the big box stores. Usually you have to order them in specialty shops and they will be custom made exactly for your needs. Even if they are more sophisticated, a bit more expensive and you can buy them and install them in the same day, they don't need much special attention. They are easy to install, just like the other models and they are also environmental friendly. If you consider for example the bamboo blinds, the impact upon the natural environment will be unimportant, because this plant grows quickly, just like all types of grass.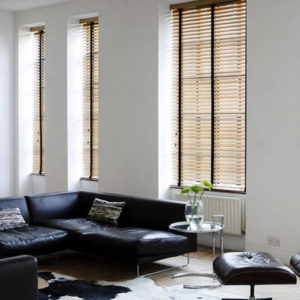 The wooden blinds bring many benefits, but here are three of the most popular ones:
They offer a great amount of privacy
It is important that you know the fact that these blinds are lighter than the ones made from metal, plastic or vinyl. But even if they are lighter, they are thicker and this means that they offer more privacy. When closed, they don't allow the light to come in at all and all outlines and shadows will be hidden and no one will be able to see you from the exterior.
They are beautiful and functional
You can choose from a large variety of wood when you decide that this is the material for your blinds. This means that there is a type of wood for each interior, that wooden blinds will blend in with your décor even if it is classic, modern, Edwardian, rustic and so on. Moreover, you can ask for different features, like different sizes or looks, the blinds can be varnished or painted on your taste. Therefore, these blinds can go perfectly with all types of windows and interiors.
They are low maintenance
Another great advantage is the fact that they don't need much maintenance. In general, you need to take the venetian blinds down, soak and rub them, but the cleaning process is easier when you choose wood. You don't have to take them down to clean them, you are able to dust them hanged over the window and you will do a great job like this, because the wooden venetian blinds don't have holes to hold them together, but notches. However, remember that it isn't recommended to install wooden blinds in rooms with great humidity, water vapors or oil particles in the air, like industrial kitchens, because they will get dirty and deteriorate quickly.